Tourists pack the beach on the island of Múcura for a few hours each day, during the vacation season. The region's islands have become a popular destination for mainland Colombians and have provided a new opportunity for income for the residents of Islote.
Resort island Múcura is a 10 minute boat ride west from Islote. Locals travel daily to the neighboring island to work in the tourism industry.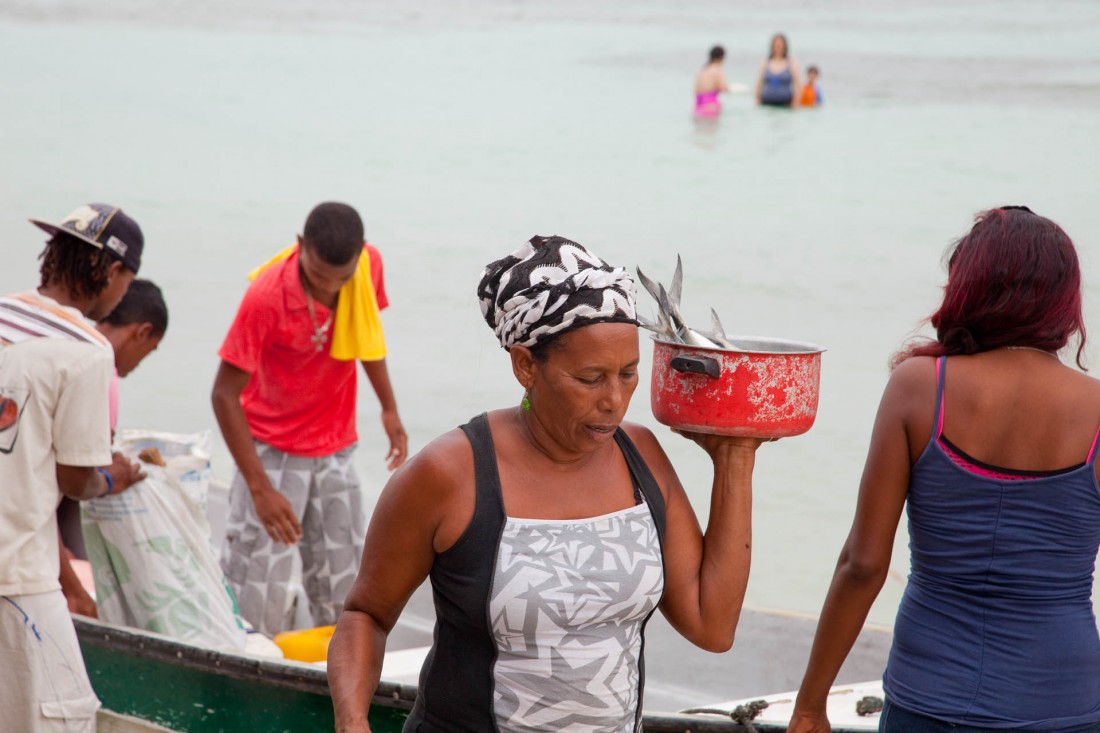 Fresh fish, lobster, crab and snails, along with a side of coconut rice is sold to vacationers that arrive by speedboat from the mainland.
Islote resident Edith Sofia Berrio Berrick unloads supplies on the island of Múcura where she prepares lunch for tourists visiting the white sandy beach. More and more, the majority of residents of Islote are working in support of the tourists industry employed on small beaches or large resorts in the region.
A tourist chooses a table before the crowd of vacationers arrive on the small beach on the island of Múcura. Islote residents cater to the needs of the visitors and rely heavily on the peak tourism season to help supplement their income.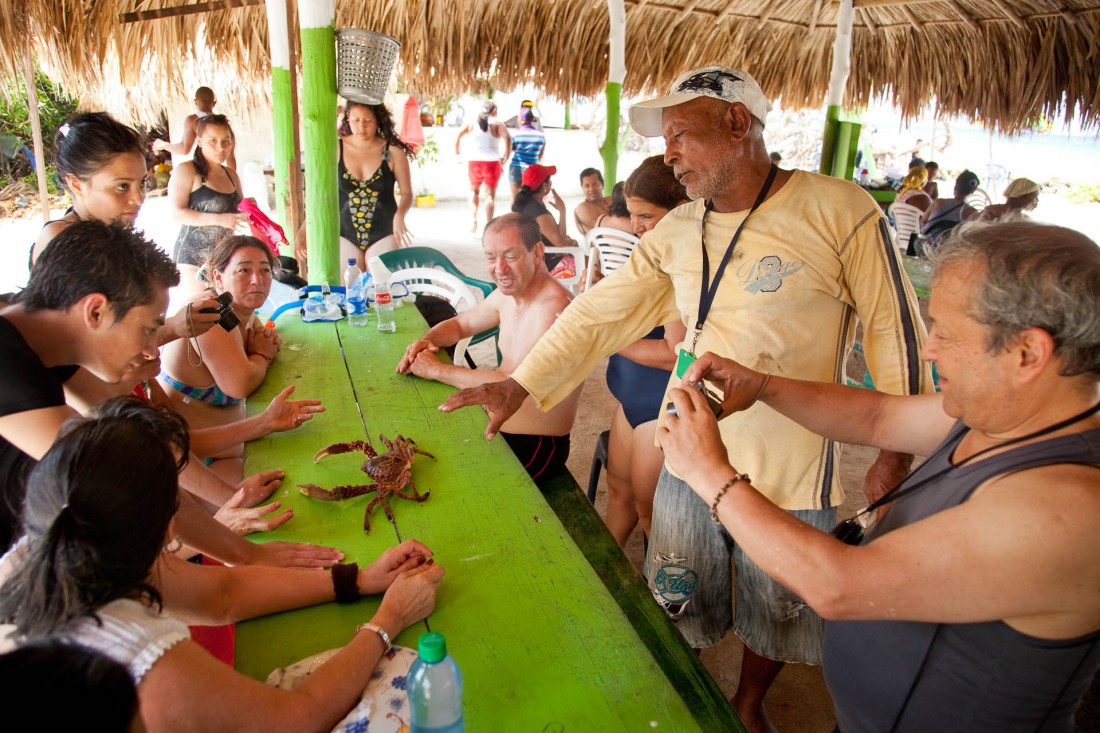 Tour guide and Islote resident, Juvenal Julio Berrio educates visitors about crustaceans and how they capture them by hand, while fishing throughout the San Bernardo Archipelago.
Using the residents and the island for filming, director Juan David Restrepo shoots rigatone singer B-King and Stefania Agudelo for a music video. The uniqueness of Islote has long attracted outsiders and has garnered world recognition as the most densely populated island in the world.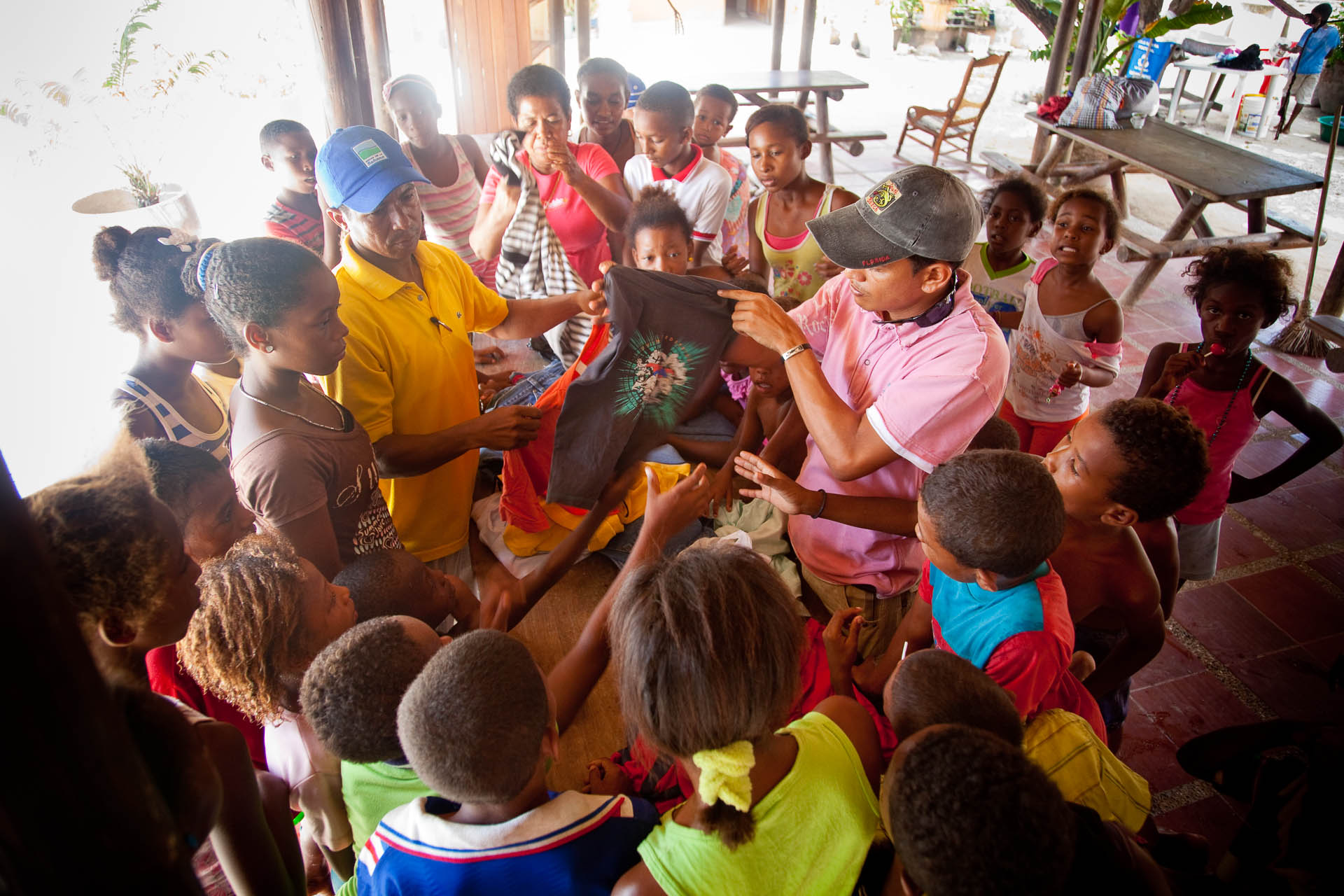 School teacher Alex Atencio organizes the distribution of clothing that was donated to the island by a group of Colombian teachers vacationing in the area. When tourists pass through the island and offer money or supplies the word travels quickly among the children.
The growth in tourism jobs has brought about an expansion of the population and the island itself. Today the new economy makes it possible for residents to no longer feel the need to move to the mainland to find employment.
Santa Cruz del Islote – Sections